"Reflect that your guardian angel does not always move your desire for an action, but he does always enlightens your reason. Hence, in order to practice virtue, do not wait until you feel like it, for your reason and intellect are sufficient." –St. John of the Cross.
Can you feeeeel it, Mr. Krabs?
Are you Mr. Krabs right now?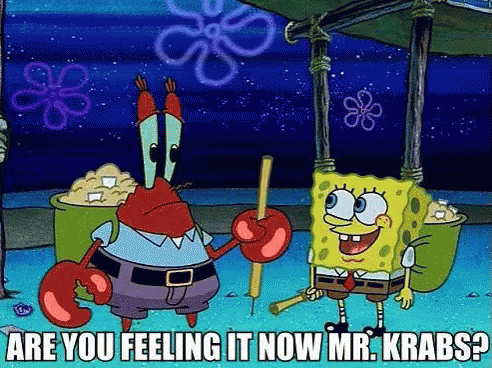 Sometimes I am Spongebob.
Sometimes I am Mr. Krabs.
Often times most people loo to God to be their genie. It's a quick fix. It is 100% true that God's grace WILL heal, restore, uplift, and mend feelings and hurts, but it takes a lot of work on our cooperation with it, too.
God is out there making all these situations and consolations possible for me, like Spongebob did for Mr. Krabs, and instead I am saying, "No. I cannot feel it yet."
God is so good because just like Spongebob he smiles and does something else.
Sometimes I wonder why I'm not able to heal from certain experiences, why I care about people who don't care about me, or care about things that are not a part of God's will for me. Sometimes the echo of my heart is a scream of, "I prayed about this for months, let's go Jesus!" Then, as time goes by I'll have some awesome consolation and peace from God moment to moment but when that it absent I feel lost and it makes me feel idle and numb to life.
Truth numero uno: Myers-briggs helped me realize I am a feeler by nature. My ENFP personality has shown signs that my feelings can overpower reason. Therefore; when I am not feeeeeeling God I think He's gone which is a lie.
(You can take your personality test at 16 personalities dot com!)
Second truth: God gave you an awesome brain. Use it. thanks to my reason and God-given intellect, I have the ability to make smart, rational decisions that do not have to be based on my emotions. (Cause' now you know my emotions get me in trouble).
In this walk of faith there are so many moments where I cannot feel anything but intuitively know God is doing His part. He is not bound by emotions, He is perfection. That is why we worship, trust, and honor Him because He is what we are not. He is always in our life moving and making everything happen for us. Not only that but He has already given us EVERYTHING we need since He is everything we need. It is us who may not always have the eyes to see it.
God is screaming at me (not actually, but actually out of love) and telling me everything's okay. God doesn't wake us up in the morning and change His mind about loving us or decide to hide His majesty!  He's gifting all of us so many blessings (through people, jobs, the guy who held the door for me at the market) but I'm not letting myself embrace it. I'm dwelling on the past, hurts, or unfairness so much that they are stopping me from the joy He wants me to experience.
The first solution; Worship.
Get your praise hands ready.
Put on a great song, maybe your favorite Hymn, and praise Him. Bless Him. We are worshiping people! We are made to worship and need to unlock that feeling in our souls. We go to concerts, sporting events, and entertainment shows because it is an opportunity for us to reach out and feel everything that moves us. The same is true for worship of God through Mass and scripture and song.
Thank God. Speak His truths. Be a lunatic for Gods-sake (get it).
The second solution:  Do not seek rewards
God is revealing His love for us through other people, places, jobs, or circumstances but we're too stubborn to let them in and love us. God is placing His goodness ALL around us, and we might just be too caught up in our pity parties to see it. (Harsh statement, but I'm doing it too).
The third solution:  It's not all about you
God doesn't need us, we need Him. God did not have to create us, but He wanted us. He was perfect on His own and there is nothing we can do to add to His glory. God is perfect on His own, He doesn't need us to attend mass, go to adoration, or prayer; we need it. The church has always taught that we can't earn our salvation through our own efforts or deeds. Redemption is a free, and it's done and over with. It is an undeserved gift offered to us through Jesus Christ and His offering of Himself. Therefore, we must actively accept this gift.
And it won't be proven by the way I spent my days "floating" through life waiting for God to put my on cloud nine, heal me instantly and cure me,  it will be through my efforts to busily engage in doing the Lord's will with Him as He gently moves in my heart.
The Church and Christ is what it is all about.
The fourth solution; charity
The spiritual duties of Jesus were never about Himself, and that's how he reached ultimate and utter fulfillment. The Catechism defines sloth as "a form of depression due to lax ascetial practice, decreasing vigilance, and carelessness of heart."
Reach out to a friend, pray for that friend, contemplate life, consider how God wants to use you, go after that cute girl you talk, visit your grandparents, pray for your vocation, read the Bible, take kids out for a fun day in the park, play with your dogs, take pictures of nature, hike, watch talks and learn about the faith, grab a coffee with a friend, call up some friends, play kickball, go out for a beer (only if you're 21 and older, duh), anything to express and practice charity and goodness.
Placing ourselves in His presence and contemplating His goodness (so that we may imitate it) changes us, and changes what we see and what we seek.
Last solution:  Cut to the chase, what's the bigger issue?
The times that I am Mr. Krabs are the times I am so incredibly weighed down by something hurting me. I can't wish that away, I need to uproot it and find a solution to it.
"Remember, you will be faulted not because you are ignorant against your will but because you neglect to seek out what it is that makes you ignorant." –St. Augustine
If we just let ourselves mosey on through the motions of life and never let God in to redeem, speak, prompt us to act a certain way or mold us and change us we cultivate habits of "spiritual laziness" and bitterness.
Sometimes maybe God is allowing us to feel misunderstanding or confusion because He wants us to be bold enough to make changes and choose certain paths. This isn't anything you can realize until you take your own efforts to pray about it and feel God speak to you.  It's kind of a big deal that we have that gift of approaching God for help.
So, like me, you have a choice; place God's omnipotence ahead in your life through ongoing prayer, courage, energy, strength, self-surrender, change in daily habits, learning virtue and selflessness… OR…holding back to the God of the Universe and stay revolved around your own desires, habits, and pleasures.
"Idleness begets a life of discontent. It develops self-love, which is the cause of all our miseries and renders us unworthy to receive the favors of Divine Love." –St. Ignatius of Loyola
So the answer to the title of the article: God is doing all He can to move mountains for you… wake up and soak it up! 
Sincerely,
Spongebob the evangelist
(wait what?)
Picture first appeared here. I do not own rights to this photo.